Cantonese Chow Mein
From ChinatownWiki ... eNjoy, Share, eXplore ... by michael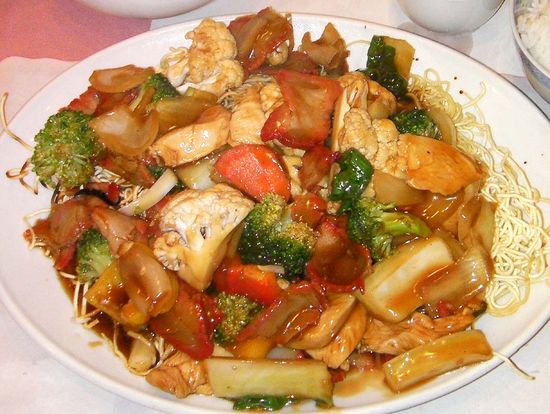 Serving for Four
Ingredients:
1 cup chicken broth
4 teaspoons cornstarch
3 tablespoons dry sherry
2 tablespoons light soy sauce
1 teaspoon black bean sauce
1 tablespoon cooking oil
1 (12 ounce) ground pork
3 garlic cloves, minced
1 red peppers, cubed
1 lb fresh white mushrooms, quartered
3/4 cup celery, sliced
1 cup pea pods
5 green onions, thinly sliced
Pan-Fried Noodles
1 (8 ounce) Chinese egg noodles
10 cups boiling water
1 1/2 tablespoons cooking oil
1 tablespoon light soy sauce
Directions:
Prep Time: 20 mins
Total Time: 40 mins
Stir broth into cornstarch in a small bowl and then add the sherry, soy sauce and black bean sauce and set aside.
Cook noodles in boiling water for 2 minutes and drain.
Heat wok or large pan over medium heat until hot and add cooking oil. Add noodles, spread out and drizzle soy sauce over them. Cook for 3 to 5 minutes. Adjust the heat if necessary to prevent burning.
Slide noodles onto a plate, cover with another plate, flip over and then slide back into the wok inverted from before. Cook for 3 to 4 minutes until noodles are crisp and golden. Set aside.
Heat wok to medium high heat and add cooking oil. Add ground pork and garlic and stir-fry for 1 minute.
Add red pepper, mushrooms and celery and stir-fry for 2 minutes.
Add pea pods and green onions and stir-fry for 1 minute. Stir cornstarch mixture and stir into the vegetables until boiling and thickened.
Arrange noodles onto a serving plate or large bowl and pour vegetable mixture over top.