A letter from Jack - April 18, 2011
From ChinatownWiki ... eNjoy, Share, eXplore ... by michael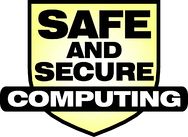 - Safe and Secure Computing
A letter from Jack - April 18, 2011
From: Just Another Programmer <justanotherprogrammer@hotmail.com> Date: April 18, 2011 4:37:40 AM EST To: <admin@windsorjapanese.com> Subject: Michael, have you been to Hoi All-you-can-eat Japanese Restaurant?
Hello, Michael,
It's Jack Eisenberg, writing from my hotmail account while I wait for my computer to get repaired.  My hard drive had an instantaneous meltdown on Wednesday evening, and the computer is still in the shop.  I hope all is well with you.
(segment redacted)
Anyway, I'll get to the point of this email.
This past week, I discovered Hoi Japanese Sushi restaurant.  I see it is already mentioned on your Sushi page, but with no information added thusfar.
What struck me about the restaurant is its all-you-can-eat concept.  I've seen many "all-you-can-eat" restaurants, but there's something a bit different about this one.  For one, canned drinks (brand names like Coke, Diet Coke, Sprite, etc.) are sold at a very reasonable price, and are included in the all-you-can-eat price.  Buy a single can, and get as many refills as you need.
The second thing I found special is the more than reasonable reasonable pricing.  Considering the a-la-carte price for sushi in most restaurants, having as much hot and cold food as you can eat is a real deal, specially when each dish is prepared to order and served at your table.
Finally, I found the place to be very nicely appointed.  It's not necessarily "oriental" in its decor, but it is traditional in food service.  Unless you ask for them, you won't see "North American" utensils on the tables.
I believe the proprietor, Martin, has previous restaurant background, but I think this may be his first venture in North America.  His email address is still China-based (martinm@live.cn) and although he speaks English, it is with some difficulty.  The menu design is so well-done, I thought "Hoi" was part of a franchise, but he assures me it's all original.
Anyway, I told Martin about the work you've been doing to promote the Chinese community and thought you might like to visit his place.  Hoi has no website, but I think the restaurant still is worthy of your attention.
Jack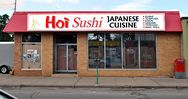 Yes, Jack I have been to Hoi Sushi and I believe they are aware of who I am. On your behalf I will expedite additional images and information to their page at ChinatownWiki and get their takeout menu online - michael