Yan Family
From ChinatownWiki ... eNjoy, Share, eXplore ... by michael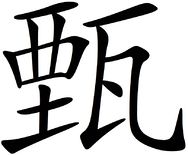 甄 - Yan - Jun - Yen - Jean - Zhen
These families share this Character as a last name

甄 Jun Family

甄 Yan Family

Keung & Emily Yan

Yans Kitchen Windsor Chinatown
House of Yan - Belle River Ontario
Martin Yan 甄文達; b. Dec. 22, 1948 is the famous television personality and chef of the award-winning cooking show Yan Can Cook.

甄 Yen Family

Famous Chinese Action Film Star & Producer

Windsor's connection to the Chinese Action Film Industry



Yan or in many cases Jun, Jean, Yen or June. It's all a matter of the translation that was adopted by the first to land in Canada. Brother's being handled by different officers derived the differences. Many others have the same name and consider themselves cousins as they had come from the same small villages back in China. Perhaps a member from each of these family lines could expand and correct this article. thank you.