Windsor Chinese Benevolent Association
From ChinatownWiki ... eNjoy, Share, eXplore ... by michael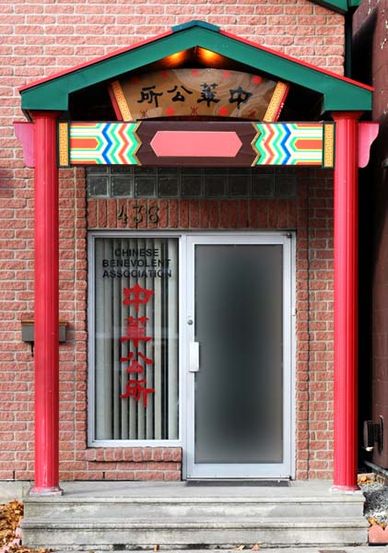 436 Wyandotte St. West Windsor Ontario N9A 5X4
(519) 258-2938

Eddie Ing, President
Keenen Lee, Vice-President & Secretary

Chinese cultural organization provides information and referrals to help Chinese community. Volunteers assist with translating documents and personal letters. WCBA offers Chinese language courses for Canadian born children wishing to learn how to read and write in Chinese.
History - Chinese in Windsor
In 1918 the Overseas Chinese Association, located at 151 Sandwich Rd. E., was co-founded by King Lee, Ping Lee and Huizhen Jin primarily to maintain social contacts among the local Chinese. In 1922 a dispute between laundry stores arose and the Overseas Chinese Association was called in to help resolve the conflict. However the Association had no guidelines for mediating disputes. A meeting was held and the Overseas Chinese Association was renamed the Windsor Chinese Benevolent Association. The association's by-laws were modeled after those from the New York Chinese Benevolent Association.
Aware of the importance of education and with the large number of locally born children and youths from China, the Association established a tuition-free public night school for Chinese, in 1925. The school was supported by the generous donations of the Chinese community. In 1944 the association purchased it's first club house from the municipality for $750.00. Since then the Association has moved to Seminole Street, and then, in 2001, they moved into their current facility on Wyandotte Street West.
Since the Chinese Benevolent Association was founded, it has worked for the welfare of the Chinese community, settled disputes among Chinese and raised funds to take care of the funerals for those with no relatives in Canada. The Windsor Chinese Benevolent Association has contributed tremendously to the harmony between the Chinese and mainstream society.

WCBA - Windsor Chinese Benevolent Association