Lai See
From ChinatownWiki ... eNjoy, Share, eXplore ... by michael
利是(红包) - Lai See - Hóng Bāo (red pocket) - Lucky Money
sights and sounds of the New Year season


恭喜发财
kung hay fat choy
Happy New Year
恭喜發財
gung he fat choi
be prosperous and happy
gong hey fat choi
gōng xǐ fā cái
goh hei fat choy
新年快乐
Xīnnián kuàilè
New Year Fast Happy
新春快乐
xīnchūn kuàilè
New Spring Fast Happy
Chúc Mừng Năm Mới
Chuc Mung Nam Moi
Happy New Year - Vietnamese
.
Followed then by ...
.
利是逗來
Lai see dou loi
Give me lucky money (red packet) said after kung hei fat choi
.
Other phrases of the season may include
.
See see yu yee
a smooth year ahead
身體健康。
Sun tie geen gong or lung ma jing sung
A year of good health
Sum seung see sing
May your wishes come true
Ho Sang Yee
wishing you good fortune in your business
.
恭賀新禧
Gong Ho Sun Hei
Congratulating the new year
歲歲平安
Sui Sui Ping On
peaceful years/generations
年年有餘
Nin Nin Yau Yu
have more money than you need every year
龍馬青神
Long Mah Jing Sun
be as strong as a horse/dragon
身體健康
Sun Tai Gin Hong
have a healthy body
大吉大利
Dai Gut Dai Lei
be prosperous and be happy
金玉滿堂
Gum Yuk Mun Tong
be filled with gold and jade (money/wealth)
一本萬利
Yat Bun Mahn Lei
be successful in everything
步步高升
Bou Bou Goh Sing
rising to the highest step by step
青春常駐
Ching Chun Seing Ju
be young and beautiful
出入平安
Chut Yup Ping On
be safe when traveling near or far
萬事如意
Mahn Si Yu Yi
be successful in everything
身壯力健
Sun Jong Lik Gin
be strong and healthy
花開富貴
Fah Hoi Fu Gwai
to bloom, usually for lovers but also for business
心想事成
Sum Seung Si Sing
May all your wishes come true
東成西就
Dong Sing Sai Jau
receive and prosper
笑口常開
Siu Hau Seung Hoi
always laugh happily
橫財就手
Waang Choi Jau Sau
have cash on hand when needed
新春如意
Sun Chun Dai Gut
be prosperous in the new spring
財源廣進
Choi Yun Gwong Jun
may wealth come in
五福臨門
Ng Fuk Lam Muhn
Having all the good blessing in your house
快高長大
Fai Goh Jeung Dai
Grow tall and be strong, for children
招財進寶
Jiu Choi Jun Boh
Attract wealth and bring in treasures
生意興隆
Sang Yi Hing Long
May your business grow and flourish
盤滿砵滿
Boot Muhn Puut Muhn
To be filled to the very top, with cash

. . . . . . . . . . . . . . . . . . . . .

. . . . . . . . . . . . . . . . . . . . . . . . . . . . . . . . . . . . . . . . .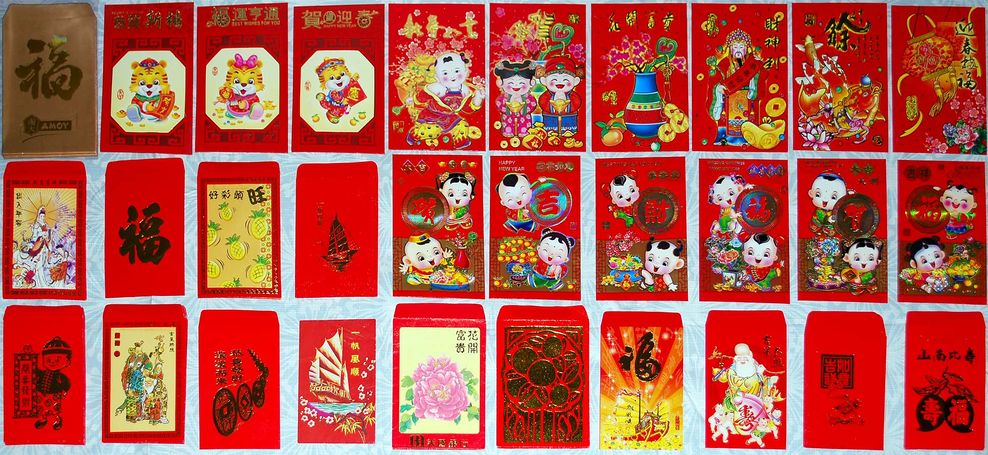 This is a rush to New Years entry. Find Errors or wish to improve this entry? Please contact me. Thank you.