沙紙- saa ji
From ChinatownWiki ... eNjoy, Share, eXplore ... by michael
沙紙 - saa ji - diploma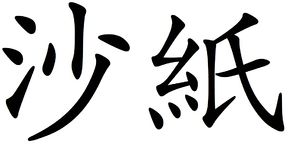 沙紙 - sandpaper



Harvey Lo, always has a word of wisdom or insightful tale to share every time you visit, and this one came some 35 years ago, but I have never forgotten. Thank you Harvey.


It is a Cantonese (粵 Guongdong) analogy of sandpaper which they use to identify your diploma or certificate earned after years of hard study.


Polish your skills with hard work and practice. The sandpaper that polishes you will be truly shop worn indeed.

notice - - real sandpaper is properly identified as 砂紙 - 砂纸



saw gee - saa geet - saa jeet - saa gee - saa zi - sha zhi - saw geet - saa ji - sawgeet-